About me
I am a photographer from Raipur, Chhattisgarh (India). I am currently working as a Curator and Project Anchor with Conflictorium in Raipur for their new museum project. I also freelance part-time as a photographer, filmmaker and video editor. I am a recent graduate from National Institute of Design with a Masters in Photography Design. My projects explore different communities, alternate cultures while using documentary photography and filmmaking to probe questions of pressing contemporary social relevance. When it comes to my process, I try to engage with people's sense of nostalgia, memory and experiences to understand the social and cultural fabric better. I am also interested in Archiving projects and Bookmaking where I like to experiment with visual approaches.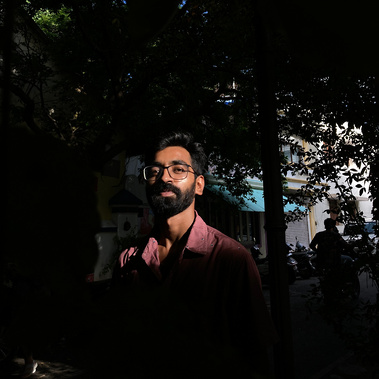 Exhibitions
2023 : Politics, Protest, Poetry
Film screening program : Music, Dissent, Spaces, Harkat Studios, Mumbai
2021 : Politics, Protest, Poetry
Online Film Screening, Indie Music Film Festival
2021 : Memories from Homeland
Print Installation, Art Block 2.0, Q417, Bhilai

2020 : Beyond ninety minutes
3-Channel Video Projection, Art Block, Q417, Bhilai

2019 : Memories from Homeland
Group Print Exhibition, Krishnakriti Art Festival, Hyderabad

2019 : Off the coast
Group Print Exhibition, Chennai Photo Biennale, Chennai

2019: Politics,Protest,Poetry
Film Screening, Irregulars Art Fair, New Delhi

2017 : Off the coast
Group Print Exhibition, Living Water Museum, Ahmedabad

2017 : Unwrapping
Collaborative Video Installation, INTAC, South Korea

Guest Faculty
2023 : Designed and conducted a common studio 3-week course called 'Reflections and Projections' under the theme Future of the past
Communication Design, Anant National University, Ahmedabad.
Artist Talk
2022 : Artist talk at National Institute of Design
Artist Talk series, Gandhinagar (Online)
Workshops
2018 : All about photo-books by Peter Bialobrzeski
Goethe Institut/Max Mueller Bhavan Mumbai in collaboration with BIND

2016 : Beyond the Camera
by Kishor Sharma, Prawin Adhikari & Shikhar Bhattarai, Photo Kathmandu 2016
Nominations
2022 : Nominated for Umrao Singh Sher-Gil Grant for Photography
New Delhi, India
2022 : Shortlisted for Communities of Choice
Chennai Photo Biennale, India
2019 : Nominated for reGeneration 4
Musée de l'Elysée, Lausanne, Switzerland